Meet LaShawn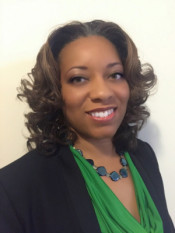 Realtor
301-934-2022
240-221-1952
301-934-3100
4550 Crain Highway
White Plains
,
MD
20695

Download vCard
LaShawn Deal Biography
My History
I am a professional Realtor with Exit Landmark Realty, centrally located in two areas: Clinton and White Plains, MD. I am licensed in the District of Columbia and the State of Maryland since 2006. For the past 11 years, I've sold multiple properties and I specialize in Short Sales. My certifications and expertise in Short Sales & Foreclosure Resource and 203K Specialist allow me to work closely with sellers and buyers with unique needs.
I have begun this journey in real estate after buying my second home in 2005. It was a leap of FAITH! I wanted to make a difference in the lives of others. Buying a home home is one of the biggest investments one will make, and for some, the only investment. The process can be very stressful, especially if you do not have the right agent working on your behalf, caring for your need and desires. As your agent of faith, I am here to take the stress and load off of you; but to guide, educate, and encourage you during the home buying process. The journey has been rough, tough, high, low, exciting, and rewarding! So, I decided to become a real estate agent. "Who wouldn't work with an agent like ME"?
My Present
As an Agent of Faith, licensed and ordained minister of the Gospel of Jesus Christ, I stand on the principles of God's word… Have faith in God…and you can say to the DOOR to your new home, "Be opened unto me because I have FAITH"! Most people don't understand that the key to anything is their FAITH. You can walk into any new home that you desire because you have the key, FAITH! So, together we build kingdom relationships and communities by selling one home at a time in one community at a time.
In this industry I 've had to face many challenges. I've learned to embrace them and not give up. These challenges that I've endured have made me better, stronger, and wiser, promoting me to the next level in my business. I take great delight in whom I represent and in what I do!
I want your real estate experience to be a "more than an enough blessing", according to Ephesians 3:20--"Now unto Him who is able to do exceeding abundantly above all that we ask or think, according to the power that worketh in us" and Hebrews 11:1--"Now faith is the substance of things of hoped for, the evidence of things not seen".
POTENTIAL CLIENTS: I want you to know, "that I am dedicated to serving you, and therefore, it is imperative that I display nothing but the highest level of quality, excellence of service and integrity". I also believe, "People Are Important" and I strive to educate my clients so you can understand the entire home buying process. Believing that working together, "THERE IS NOTHING" to stop us from going to settlement on your new home!
As your Agent Of Faith, I have responsibilities to you: Care, Obedience, Accountability, Loyalty, and Disclosure. Put your real estate needs in my hands and remember your real estate concerns are my concerns!
I am a member of the Prince George's County Association of Realtors, Maryland Association of Realtors, and the National Association of Realtors. For more information on buying and selling a home, please remember I am just a call or click away. I look forward to serving you!
My Future
I am putting into action of becoming a Broker and to own an Exit Franchise
Providing for the widows and orphans
Providing food, clothing, shelter to the homeless and poor
Build a church and school for Grace and Mercy Ministries Bible College & Seminary
Own a FAITH based child care center
Please visit me at: www.LaShawnDeal.com, LaShawnDealrealty@gmail.com, www.facebook.com/lashawn.barnesdeal, twitter.com/@lashawndeal, www.linkedin.com/lashawndeal